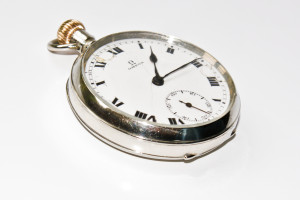 "Time is on my side, yes it is" –Rolling Stones, Time is on my Side
Okay, you're ready to join me in the land of financial freedom.  One of the first things you need to figure out your time horizon for the money you're saving.  Will you need that money in a couple months or sooner, in the next couple years, in the next ten years, or at retirement?  These answers will have the greatest impact on how you invest it.  Here is my take (and as always, I'm not an expert, and these are just my opinions; any predictions I make about the future are just based on historical trends, and you should establish your own opinion on the future).
Extremely short-term (tomorrow to next 6 months)
Your property tax bill, 'Lil Fox's preschool tuition payment, living expenses if you're retired like Grandpa Fox.  With such a short time horizon, you really don't have a lot of options.  For amounts less than $5,000, it's probably easiest to keep it in your checking or savings account, even though the typical interest rates on those accounts are practically zero.  Money market accounts would offer a little more interest, but even then you'd be looking at 2% or less, so it may not be worth the $1.50 per month in interest you earn on $1000 to set something up.
If you're talking a larger amount of money, you want something that has a very low risk of decreasing in value, but still offers an interest rate that makes the effort worthwhile.  Short-term bond funds like Vanguard Short-Term Bond Index (VBISX) may fit the bill.  There's a pretty small chance that your investment will decrease in value (but it's not 0% so be prepared), but you can still earn a decent ~3% interest; that's about $25 every month for a $10,000 investment.
Short-term (6 months to 3 years)
Car fund because you have a 2001 Honda Civic with a bad transmission (the Fox family in June 2013), vacation you want to take to Hawaii without the kids two years from now.  Because you have extra time compared to the "extremely short-term", it's definitely worth it to invest for any amount more than $500.  Similar to above, you probably want a bond fund of some sort, but because of the extra time you can take on a slightly more volatile investment and grab the higher return.  Something like Vanguard Medium-Term Bond Index (VBIIX) gives a decent return, about 4% historically, with a pretty low risk that you'll lose more than you gain over a year or two.  Just so you hear that "cha-ching" sound in your head, if you invested $1000 in a bond fund, after three years at 4% interest, you would have about $1125, a tidy little $125 profit earned for nothing more than being smart about where you put your money.  That could fund those Mia-Tias on the beach in Hawaii while you remember all the extra free time you had before the kids came along.
Medium-term (3 years to 10 years)
Mini Fox's college fund, down payment on Mrs Fox's dream vacation house down the shore.  With a longer time horizon, your options really start to open up.  A few years starts to give you the time to weather some moderate financial storms, but probably not enough to go fully into stocks (ask someone who invested money in October 1929 or November 2000).  The winner is probably some balanced fund like the Vanguard Balanced Index Fund (VBINX).  These balanced funds will have a mix of bonds, with the price stability they provide, and stocks, with the potential for higher returns those provide.  For those closer to the 10-year mark or those willing to take a little bit more risk for a higher return, you could jump into an all-equity mutual fund like Vanguard Total Stock Fund (VTSMX).
Long-term (10 years to retirement)
Mr Fox's 401k, Mrs Fox's IRA.  Once your time horizon gets past 10 years, things start to get interesting and fun.  Because this is where most of your savings for retirement should be (unless you're Grandpa Fox, enjoying retirement), this is where I'll focus most of my time.  Also, because this is where you have the most options, this is where there's the biggest risk that you can screw it up and cost yourself tens or hundreds of thousands of dollars over the years.
While we can spend a ton of time discussing this (and believe me, I will) a simple starting point on where to put your money for something like this is the Vanguard Total Stock Fund (VTSMX).  In time, we'll discuss other investment options but this is a good start.
In the cases of the medium-term and the long-term strategies, at this point you are truly entering the world of investing.  Welcome.  Your returns on any particular year can range from -10% or worse to 20% or better, and you can count on the fact that sometimes it will be a bumpy ride.