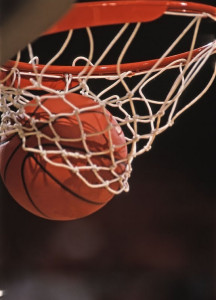 March is here and that means so many good things—winter is giving way to spring, flowers are starting to bloom, and of course March Madness (the college basketball tournaments for those of you unfamiliar with the lingo) is starting.  Normally I would totally consume myself with 10+ hours of games a day on multiple TVs at the same time, and Foxy Lady would become a basketball widow for the next three weeks (and that still may happen).  But now that I'm doing this blog (plus Pitt didn't make the tournament), I thought I would have a little fun and combine the two.
So here is my tournament-style contest to determine what is the single best strategy/approach out there to help you build your personal fortune.  I whittled it down to eight "teams" which will face off against each other until there is one champion.
Without further ado, here are the teams:
Asset allocation—investing your portfolio into different asset classes like cash, bonds, and stocks.
Diversification—buying different stocks or bonds to avoid "putting all your eggs in one basket"
Free money—taking advantage of free money from accounts like 401k's or stock purchase plans
Index mutual funds—choosing mutual funds that invest in broad indices like the S&P 500 or the FTSE.
Mortgage—picking the best mortgage that gets you the house you want but pays the lowest amount.
Saving rate—simply put, how much you're saving every month or every year.
Starting early—beginning putting money away at an early age
Tax optimization—using tax advantages like 401k's, IRAs, 529s, and other accounts out there that let you eliminate or defer paying taxes.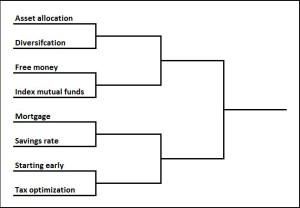 Every day for the next two weeks I'll break down the "game" between two of these investing strategies and determine which one, taken in isolation, will have the more important impact on your nestegg.  But in this tournament there are no losers (I'm getting ready for when I start coaching Lil' Fox's little league), and certainly each of these principles is very, VERY important as you think about your investing strategy.
The idea of this tournament (other than having a little fun while the real players are putting the balls through the hoops) is to help finish the sentence: "if you only do one thing in investing make sure you . . ."  I've evaluated these strategies along a few criteria:
How large of an impact could doing this right have on your nestegg? Are we talking about a few thousand dollars over the years, or could this amount to the millions?
How commonly do people screw this up? Is this something that everyone is already doing (so thanks for telling us something we already know, Stocky), or is this something that most of us can probably benefit from?
How easy is it to do correctly? Is this low hanging fruit that we can achieve with just a couple hours of work, or is doing this right going to require a huge time commitment and possibly a PhD in multivariate statistics?
Put all those together, and I'll try to pick which of the head-to-head strategies "wins" the game.  I hope you have as much fun reading these next few blog posts as I had writing them.  If you're feeling particularly ambitious, go ahead and fill out your bracket and send it to me and we'll see how well your picks line up with mine.