Please share this if you believe that Project Runway should celebrate women of all shapes and sizes and ages.  My hope is enough people share this that it ultimately gets to Heidi Klum and the people at Lifetime Television.  Maybe if they know their fans and viewers want to see a variety of women models, they'll make the change.  I hope you join me in this.
If you ever want to know where to find Foxy Lady and me on Thursday nights, it's in front of the television watching our favorite show, Project Runway.  We have been longtime devotees; we started watching the show together during its 4th season when we were dating in Chicago.
She loves it for the fashion.  I am man enough to admit I love it too, mostly to see the creative process take shape.  So there you go, a Project Runway lovefest.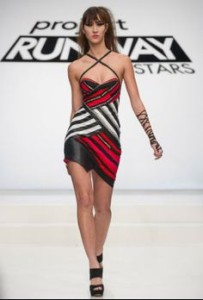 But there is something that has always bugged me—Project Runway still exclusively uses "model-sized" models for all its runway shows.  They're all your stereotypical model—early 20s, 5'10"-ish and 110-ish pounds, stick-thin with super-long legs.  Of course we know that isn't the real world.  You take 1000 women off the street and maybe 2 look like that.  The other 998?  They're thin and short, chubby and short-waisted, tall and muscular, big-busted, big-butted, and a hundred other shapes.  Why doesn't Project Runway let these women also be the muses for its designers?
Granted, in one or two episodes a season, they do use non-model-sized models, but those shows tend to be gimmicks.  Last season in episode 13.9 they designed clothes for kids and in the following episode (13.10) they picked models up off the street, although I must confess I don't remember a huge diversity in the shapes and sizes of those women.  But all the other episodes use exclusively super-young,  super-tall, super-thin models.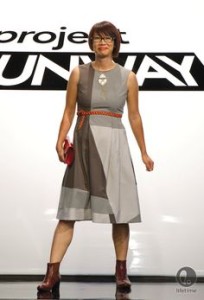 The season before that in episode 12.10 the designers created outfits for Project Runway superfans (sadly, I was not included among the group), and there you saw women with a lot of different shapes and sizes.  All the other episodes: you guessed it, super-young and super-tall and super-thin.
I could go on and on.  Suffice it to say, in any given season there are about 15 episodes and one or two of them use models that deviate from the super-young, super-tall, super-thin look.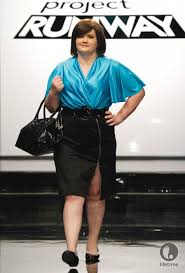 Call to action
So here is my call to action for Lifetime and Heidi Klum.  Start using models that represent the diversity of the women in this country.
Sure, there are probably excuses that the show could use, but they're all pretty weak:
The designers are used to working with super-young, super-tall, super-thin models:  This actually comes up a lot in those episodes where they do use normal-sized women.  The designers complain that they don't know how to size their garment for a woman with big boobs or a big butt (Carlos from season 8 shared these sentiments to nice comic effect).  My answer—tough cookies.  Learn to make clothes for these women, after all if you want to be a successful designer, you're going to need to.  I guarantee you that Michael Kors or Brooks Brothers (two design houses that have strong ties to Project Runway) sell more clothes that are larger than size 4 than are smaller.
It wouldn't be fair if some designers got different sized models—the models need to be "standardized":  I can see the logic here, but it's something where you can either accept the excuse or not.  I choose to not accept it.  Women of any shape can be beautiful.  One of the designers' jobs is to create the garments that bring out that beauty.  Some will need to accentuate the butt while others need to downplay it, same for the bust or the wide hips or the thick ribcage.  But isn't that part of the challenge?
The supply of different-sized models just isn't there:  Bullshit.  They do the shows in New York City.  If they did a casting call for models of all shapes and sizes, they would get tons (literally and figuratively) of women.
They need professional models:  Somewhat related to the above comment.  In the episodes where they have different-sized models they tend to be gimmicks (fellow designers, dog owners, designers' mothers or sisters, superfans, women off the street, etc.) so they aren't using professional models.  It becomes frustrating for the designers because the models start complaining about stupid stuff or start giving their opinions when it isn't appropriate. A good example of this was in the fourth season when Christian Siriano (the eventual winner) made a prom dress for a highly opinionated and difficult high school girl (episode 4.7).    I get the frustration, and I get that you need a professional model who can keep her mouth shut, wear the clothes, strut down the runway, and highlight the garment's best qualities.  Here's a solution—hire professional models who are different sized.  There are thousands of them out there if you're just willing to look.
As I said at the beginning, Foxy Lady and I are huge Project Runway fans.  And we aren't alone—Project Runway averages about 2 million viewers per episode.  With great power comes great responsibility.  
Project Runway is uniquely positioned to make a real difference in the fashion industry and maybe society at large.  They can continue to nearly exclusively use super-young, super-tall, super-thin models.  That perpetuates the travesty that that is normal, leading to all sorts of problems especially for girls and young women like low self-esteem and eating disorders.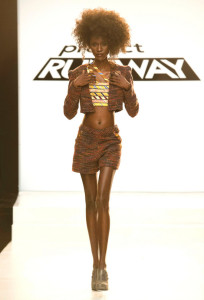 Or they can pick up the gauntlet and show that women of all sizes can be models, women of all sizes can be beautiful, women of all sizes can strut their stuff.  If it stopped there, I think it would make really interesting viewing.  The designers would be faced with an additional dimension of challenge and the runway shows would be a lot more entertaining.
But the real upside is maybe that could impact the whole fashion industry.  In a single week more people tune into Project Runway than attend all the fashion shows during fashion week.  If they can show that there is an audience for different-sized models, and even more importantly a market for them (afterall, fashion is a business), maybe that will convince Ralph Lauren or Dolce & Gabbana or Vera Wang to follow suit (literally and figuratively).  I hope they do.
If you agree please share this and let's see if we can get it to Heidi Klum and Lifetime Television.