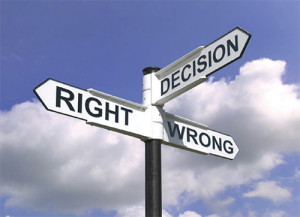 The new year is a special time for me.  It's a fresh start and a time of rebirth (even though it happens in the dead of winter).  You make resolutions, many of which you won't keep, because this is the time to think about what you want to do before you get sucked into the rigmarole of actually doing it all.
For investing, it's a natural time to reflect on your financial situation.  Am I saving enough to get where I want to go?  Am I investing that money in the places that make sense?  For this post I want to focus on the second question of where should you invest your money, and particularly should you change it from one year to the next.
Every year you have investments that do well and others that do poorly.  When you look on 2015 you'd see that international stocks (down about 4%) didn't do nearly as well as US stocks (down about 0.2%).  Based on that what should you do?
One school of thought would be to invest more with US stocks.  If they did better last year, then it stands to reason that they'll continue to do well since there probably hasn't been a lot that has changed.  So stay with that winner.
The opposite school of thought is that the international stocks had a down year so they are probably "due" to do better.  Intellectually, I think this is the much more tempting strategy.  We know that stocks can't continue incredible performance forever; eventually they will have an off year.  We also know that a well-diversified portfolio can't continue to suck forever; eventually they will rebound (like stocks after 2008).
To answer this question with a little more analytic rigor I used my handy dandy computer and some free data from the internet.  Just to make things simple, let's assume we live in a world with only two investments: US stocks (VTSMX) and international stocks (VGTSX).  As I mentioned, in 2015 US stocks did better than international.  So should we invest more in international?
Using data going back 19 years (that's when the international index fund I am looking at started), the US fund has beaten the international fund 10 times.  That's almost dead even—10 wins for US and 9 wins for international.
But the "wins" are very streaky.  US stocks performed better in 2015 as they did in 2014 and 2013.  On the other hand, International stocks outperformed US stocks for five years in a row starting in 2002.  Based on those snippets, you would have been worse off by switching your investments to last year's underperformer.
If you look at all 19 years, there were 8 years when the lower performer from the previous year did better the next year.  Again, that's about 50% of the time—8 years where the lower performer did better the next year, 10 years where the higher performer did better (it doesn't add up to 19 because we don't know which will do better in 2016).
| | | |
| --- | --- | --- |
| Year | Investment that did better that year | Investment that did better the next year |
| 2015 | US | |
| 2014 | US | US |
| 2013 | US | US |
| 2012 | Int | US |
| 2011 | US | Int |
| 2010 | US | US |
| 2009 | Int | US |
| 2008 | US | Int |
| 2007 | Int | US |
| 2006 | Int | Int |
| 2005 | Int | Int |
| 2004 | Int | Int |
| 2003 | Int | Int |
| 2002 | Int | Int |
| 2001 | US | Int |
| 2000 | US | US |
| 1999 | Int | US |
| 1998 | US | Int |
| 1997 | US | US |
In a way the data is comforting, and it came out the way I predicted since I am a believer of efficient markets.  These theories on which stocks will do better tend to work about as often as it doesn't.  Instead of spending a lot of time and effort trying to "figure out" which investment will do better, you're probably best served just sitting tight.
The Fox family invests about equally between US and international stocks.  That means international stocks served us very well in the early 2000s but not so much the last couple years.  As far as next year goes, who knows?  I could tear the data apart and analyze it a million different ways, and I'd probably come out with something that said "doing it that way is better 50% of the time, and doing it the other way is better 50% of the time."
So as the Fox's take stock (pun intended) of our finances, we'll continue plugging along with the same diversified investments we've used in the past.  Instead of trying to figure out which investment will do better this year, I'll send that energy trying to figure out where Mini Fox hid the television remote.