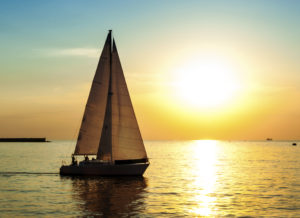 Welcome to the exciting conclusion to my sailing retro-diary
Saturday, April 2—We wake up in Baleena Bay.  After breakfast Jim and I take the dinghy down, put the outboard motor on it, and then head to shore.  Bear in mind, we don't have visas for Costa Rica, so when I step foot on land I have illegally entered the country.  We chose this because for the boat to enter is a 2-3 day bureaucratic process plus a $500ish fee.  Since we only want some fuel, we're hoping to get in and out without going through that hassle.
When we get there I start looking for Jose who is the guy who is supposed to be selling diesel.  The place is a tiny, tiny town with a dirt road and maybe ten or so buildings.  I don't see any obvious gas stations so I knock on a door.  A nice guy answers but he speaks no English.  Using my very broken Spanish, I learn that there is a Jose but he only sells gas, no diesel.  I also learn that the nearest gas station that sells diesel is about 10 miles away.  Damn!!!
Fortunately, the guy offers to drive me for $20 so we load our four 5-gallon jerry cans into his tiny Hyundai.  As we're driving I figure there's a 2% chance that I'll get kidnapped, but all goes well.  He was a really nice guy and 30 minutes later we have our fuel, are back on the boat, and ready to go.
At about 11:00am we're heading out and on our way again.  Then we have another highlight of the trip—we catch a fish.  It's an amberjack that Jim reels in and then Laura butchers it and we have it for a late lunch, about an hour after the guy was swimming in the ocean.  I must admit that I did tear up a little when we caught him and we sprayed alcohol in his mouth to kill him.  Circle of life.
The rest of the day and night is pretty tame.  We are motoring a lot because of course the wind is on our nose, and even stays on our nose when we make a right turn (how is that possible).  Given this, I think we're all relieved that we have all the extra fuel.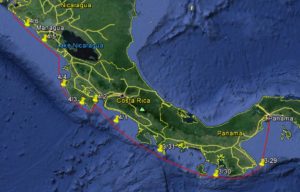 Sunday, April 3—This was definitely the craziest day.  Throughout the trip, Jim and Laura have been very closely looking at the weather reports, as you would expect if your house was floating into potential storms.  We knew the Papaguyo winds were coming, and today they hit.  Apparently, the wind from the Caribbean side comes over the land through some valleys and hits the Pacific side going 20-30 mph or more.
During most of the day the wind is hitting us right on our nose (of course) even as we try to hug the coast where the wind is calmer.  By 2pm we have a problem: we can sail east (opposite of where we with max engine power with the wind and waves beating the hell out of the boat.
Or we can sail across northwest (the direction we want) but there's no land for over 150 miles.  We'll be able to sail due to the direction of the wind, but the wind will be very strong so that's a concern.  Jim and Laura (more Jim than Laura on this one) decide to go NW.  The sailing is good at first, with the wind blowing 15-20mph and us sailing about 6mph, so it seems like a good decision.
As night comes the wind picks up to 30mph, which is super strong and which most sailors would say is something you never want to sail in.  But there's nothing we can do now other than keep going.  The boat is bouncing like a basketball.  For most of the night all three of us are up, not that we're needed but because there's no way you can sleep through this, plus for Jim and Laura I think they're understandably concerned.  For me, I think it's a ton of fun like riding a roller coaster.
By about 3am I get to where I could sleep through anything, so I go down and zonk out.
Monday, April 4—After the crazy day yesterday, this is an easy day.  We're sailing parallel to the coast going about 4 mph, with a 10 mph wind, so it's actually really pleasant.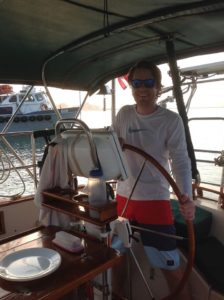 However, we have a bit of a challenge.  We're within 50 miles of the marina and it's 10am.  So we can't just go straight through because we'd get in in the middle of the night.  In general, you never want to check in to a marina "after hours", and with the Costa Rica experience, there's no way we'd do that.  So we sail another 8 hours, and get within about 30 miles of our destination.  There's an anchorage there that we'll chill out in for about 10 hours.
We get to the anchorage and it's kind of odd.  It's not in a bay or anything.  It's just out in the ocean, opposite a beach with a resort.  We can actually see the people walking around (and horseback riding).  We're so close, but it's out of the question that we take the dinghy off and go into town.  So I can just watch an imagine those people drinking Cokes with ice.  Mercifully, 10pm comes and we head off for the final stretch.
Tuesday, April 5—WE MADE IT!!!  We took off from our anchorage at about 10pm and night before, and pulled into the marina at Puesto Del Sol.  Within 5 minutes of getting tied up, I was off the boat and on my way to a shower.  Actually, that might have been jumping the gun as Jim was talking to the hotel people about immigration, but I was a man of a mission, not having had a real shower in 10 days.
I talk to one of the hotel hostesses who speaks English very well, which is nice because I don't want to put the effort in to showing someone how bad my Spanish is.  She gets me some of those mini shampoos and soaps and the internet password.  I learn later that I took her English skills for granted.  She's one of only two people at the hotel who speaks English.
Maybe this is two personal, but during my shower when I was shaving, I went through two new razors; they kept getting clogged because of all the sunscreen.  Gross.
When I am finally feeling human, I ask for Coke with a separate glass completely filled with ice.  Then I order two green salads.  Not that Jim and Laura's cooking wasn't good (it was) but I am really craving fresh vegetables.  I spend the rest of the day drinking ice-cold Cokes and catching up on email.
Wednesday, April 6—This was a bit of a waste of a day.  The resort is pretty isolated so there's really not a lot to do.  I got all caught up on my internet browsing, and just enjoyed taking it easy without bobbing in the water.
Interestingly, we are literally the only guests at the resort.  There are something like 20 staff and us.  For lunch Jim, Laura, and I walked into "town" (just a strip of 5 or so houses).  It was great but the regulars were pretty convinced that the owner of the hotel traffics drugs, since it's a really nice place but there's no one ever there.  Oh well.  The lunch was really good.
Thursday, April 7—Today I fly home.  Since all flights from Managua to the US leave at around 7am.  So that means that I have to get in a cab in Puesto Del Sol at 2am.  Not that I really slept a lot since I was so excited to get home, but still early.
Like the flight out, the one back was pretty easy.  From Managua to Miami to Charlotte to Greensboro.  The only goofy thing was we sat on the tarmac for about an hour in Charlotte on our way to Greensboro.  Keep in mind that it's about 100 miles from Charlotte to Greensboro, so we literally could have driven and gotten home fast.  Oh well.  I got home and got to see Foxy Lady and the cubs.
What a trip!!!
I hope you enjoyed the retro-diary.  It was such an awesome trip.  I don't think words can adequately express it, but I am so, so grateful to Jim and Laura letting me join them.  I hope I was as good a guest as they were hosts.
Wednesday, I will go in-depth into my Panama Canal experience and thoughts on it.