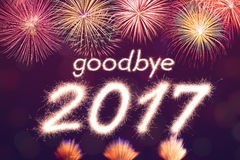 As the door closes on 2017, let's take a few minutes to reminisce about what an incredible year 2017 was for investors.  For the Fox family it's awesomeness was especially welcome given that our careers have shifted quite a bit, moving away from working for the man to working for ourselves (though, one of us happens to be a man).
Let's look at the numbers, and figure out what it all means.
A tale of the tape
Like most investors, we had a really good 2017.  Here is how our portfolio broke down:
| | | |
| --- | --- | --- |
| Investment | Portfolio weight | 2017 return |
| US stocks (VTSAX) | 52% | 19% |
| International stocks (VTIAX) | 37% | 24% |
| Real Estate Investment Trusts (VGSLX) | 7% | 1% |
| Commodities (DJP) | 2% | 1% |
| Lending Club | 2% | 2% |
| TOTAL | 100% | 19% |
Cha-ching
No matter how you look at it, 2017 was a GREAT year for stocks.  The US stock market did really well, growing 19%.  This can become really political really quickly when assigning credit/blame for such things to politicians.  However, I think it's fair to say the Trump administration has been fairly pro-business.  That, along with the massive tax cut, definitely gave a boost to stocks.
Also, we saw economic growth really pick up while unemployment went to historic lows.  And all that was happening while inflation remained very low (more on this in a second).  If you put all that together, that's a perfect recipe for awesome stock performances, and that's exactly what we had.
Not to be outdone, international markets really kicked it into high gear.  Coming into 2017, US stocks had outperformed international stocks (pretty dramatically, actually) for four years in a row, every year since 2012.  That ended this year.  International stocks were up an astounding 24% compared to the paltry 19% that US stocks were able to muster.
I think that's a good reminder that you can never really outsmart the market.  At the beginning of 2017 there was every reason to believe that US stocks would do better.  There was a ton of momentum in the US coming off of Trump's election.  Plus, Europe seemed embroiled in political quagmires—Brexit, French elections with extreme candidates polling well, Greece being Greece.  Asia similarly seemed poised for another yawn of a year—Japan remain in a deflationary stagnation, Noth Korea being a total wild card, and it looked like China's economy would slow down.
Our interpretations were dead wrong and those markets kicked butt, and international markets outpaced the US markets by 5%.  5%!!!  That's a lot actually.
Inflation remains dormant
While all this was happening, inflation remained remarkably tame.  You know I spend a ton of time and energy talking about inflation because it has such a big impact on the purchasing power of your savings.
Huge returns like we had in 2017 are great, but what's the point if those gains are all eaten away by higher prices?  The final reading for December will come out in mid-January, but preliminary readings indicate that inflation for the year will come in at about 2.1%.  2.1%!!!  As high as those 20-ish% returns were, that's how low 2% inflation is.
As an investor, it really doesn't get much better than that—high returns and low inflation.
Regrets, I've had a few
As you know, I always use New Years as a natural time to take stock (no pun intended) of things.  Now is a really good time to look at how we did, thinking about the things we did well with our investments and what we could have done better.
The high points of our investments were the US and International stocks.  We invested in all index mutual funds so we really didn't do anything here.  Just "set it, and forget it".  I suppose that speaks to how useless I am as an investor—the best part of our portfolio is the one that I did the least for.
Certainly, we did have some not-so-great investments.  I hate to be picky in a year where our portfolio grew 19%, but 2017 really exposed some stupid decisions that I had made.  Look at our returns, and the two "basic" investments that everyone should have (I even wrote a whole post on this very subject).  Those did the best.
The investments that did the worst were those "other" investments that aren't one of the three basic ingredients.  I'm stupid, and that stupidity probably cost us $50,000 this year.  Ouch.
I've chatted about our commodities investment and our Lending Club investment, both of which have been incredible duds.  Currently, we're in the process of eliminating those from our portfolio, so hopefully in 2018 we won't have to deal with that crap.  Of course, because the investing gods like to humble stupid people, I am sure those two will perform spectacularly this year.
As for the REIT, over the longer-term it's done fairly well (not as good as US stocks but better than International stocks).  This was just a down year, so that happens sometimes.  Still, it begs the question why we got into this instead of just sticking to the three ingredients, and I have some lame excuses, but nothing worth mentioning.  Hmmmm.
So there you have it.  2017 was an incredible year for being an investor.  Despite the couple misses we had, our two biggest investments really did well, so we're happy.
How about you?  How did your portfolio do in 2017?