. . . and it shows you can't outsmart the market.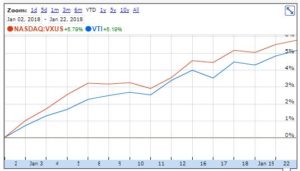 It's been a mere three weeks into the new year, and stocks are way, way up: US stocks are up over 5%, and international stocks are up nearly 6%.  IN THREE WEEKS!!!  That's crazy . . . crazy awesome.
As you sit back and count all the money you're making in the market, let's put January 2018 into perspective.
How special is this?
5% in a month (and we aren't done yet) is good, but not too special.  Since the S&P 500 began in 1950, there have been 90 months at least as good as this January has been.  That's about 11% of the time, so a little more than once per year on average.  So that's not too special . . .
. . . But this one is coming off the heels of some really strong performance.  In the past, most months at had at least a 5% return were rebounding from the previous month which wasn't that good.  So for example, in September of 2015 that month had a 6.6% return but the month before the market was down.  Same thing in October 2015, October 2011, December 2010, September 2010, and July 2010 (those are the most recent 6 instances).
It might make sense for a really good month if it was sling-shotting off a really bad month, like those most recent examples.  Yet, that's definitely not what we've seen.
January is actually the 10th month in a row that the S&P 500 has been up.  Since 1950 there have been two other streaks like that, in 1954 and 1958 (both of which were 11-month streaks).  So we're in one of the longest, sustained market runs of all time, and we just busted out a 5.1% month.  That's a bit like running a marathon and in the 22nd mile kicking out a 4:00 minute-pace.
No matter how you cut this, the market for the past year has been really special.  We'll be telling our grandchildren about this.
You can't outsmart things
The market is a benevolent teacher.  Actually, maybe not benevolent (some of the market's lessons can be quite harsh), but certainly a teacher.  There's a valuable lesson here.
Go back in time three weeks ago.  We were all enjoying football games on New Year's Day, making resolutions we probably won't keep, and taking stock (pun intended) of how our investments went in 2017 and what we can expect in 2018.
There was every reason to think 2018 might be a bad year for stocks.  Stocks had just been on an incredible run, so it wasn't unreasonable to predict a bit of a correction.
Of course, there are a million ways you could go, but there are a ton of really reasonable arguments you could make for why the market might not do so well in 2018.  Yet, so far in January it has busted out a huge month, and if you are fully invested you have made a ton of money.
On the other hand, if you tried to outsmart things and time a market decline, you missed out on a really great month, and that has costed you hundreds or thousands or hundreds of thousands of dollars.
The point of all this is, and I certainly eat my own cooking on this, that you can't predict the market.  You can spend countless hours trying to figure it out, but it's unfigured-outable.  The best thing you can do it invest your money and keep it in the market until you need it.
That said, I hope you have been fully invested and those numbers on your spreadsheet have been going up and up.