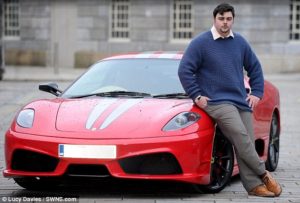 Quick story
Los Angeles is a pretty bizzaro place in general, and this is especially true when it comes to personal finances.  Houses are so expensive, that it's hard to understand how people do it.  Also, there's a culture of conspicuous consumption that pervades everything; everyone looks like they're spending a ton of money (and often they are).  A friend once very wisely said "In LA the BMW 3-series is what Honda Civic is to the rest of the country."
Foxey and I both had good jobs, were saving a lot, and thought we were "making it".  Yet, in a lot of ways we looked like the "poor" people on the street.  Our house was fairly average looking, we mowed our own lawn, we both drove old cars (a 1998 Toyota 4-Runner and a 2001 Honda Civic), and in general we had a humble existence.  There seemed a disconnect, and it took an emotional toll.  We were working so hard to save but it didn't seem like it was making an impact.  Everyone else "looked" richer than we.  What gives?!?!
One day we were at a party, talking to a neighbor who was a mortgage broker.  The neighbor had a few glasses of wine in her and mentioned that she did the mortgages for several people on the street.  She didn't violate anyone's confidentiality, but she made a general statement that "you would be shocked at the shit-show that is most of our neighbor's finances."  She left it at that.
We'll come back to this in a second.
Looking at the data
According to the US census, the median net worth for an American is . . . $80,000—and that includes home equity; if you strip out home equity it falls to $25,000.  Since this is an investing blog, and also since you know I don't think you should rush to pay off your mortgage, let's just look at net worth excluding home equity.
If your first reaction toggled between "that can't be right" and "that's really low" and "Holy Crap!!!" then you're in good company—that was my reaction. My other reaction was "a really large percentage of their net worth is in their home, and that's no good."  But that's a topic for another post.
The Census Bureau breaks it down every which way.  I think the most interesting is by age:
| | | |
| --- | --- | --- |
| Age | Net worth—with house | Net worth—without house |
| Less than 35 years | $6,900 | $4,138 |
| 35 to 44 years | $45,740 | $18,197 |
| 45 to 54 years | $100,404 | $38,626 |
| 55 to 64 years | $164,498 | $66,547 |
| .65 to 69 years | $193,833 | $66,168 |
| .70 to 74 years | $225,390 | $68,716 |
| .75 and over | $197,758 | $46,936 |
There's an obvious trend that you would expect.  As you get older your net worth grows, peaks in your older years, and then towards the end starts to fall as you spend your nest egg.
People don't like showing their rear-ends
How do you reconcile all this?  The obvious answer is that, sadly, many people live way beyond their means, showing off a glitzy façade while the financial foundation is completely rotted.  Back in LA, I am certain that we had a net worth higher than nearly all our neighbors.  We certainly had cars crappier than all our neighbors.  We were certainly one of the very few (only?) that mowed our own lawn.
No one wants to "seem" poor, especially when they aren't.  As I said, it took a bit of a toll.  Fortunately, Foxey and I have good, midwestern roots and were raised to save a big part of our income.  But that's no fun.  I'm a bit of a freak so I actually derive a lot of pleasure from buying index mutual funds and watching numbers on a spreadsheet get larger.  Foxey is much more normal, and enjoys buying actual things rather than just socking the money away.
Our neighbors, on the other hand, were not saving as much as we were.  If you believe the mortgage brokers comments, many were spending much more than they were making, and weren't saving at all.  Looking at the national data, they had that in common with much of America.
I don't want to seem as though I don't think $100,000 is a lot of money.  It definitely is, but it doesn't seem like a lot over a lifetime of savings.  Yet, that $100,000 is significantly more than most Americans have saved.  I'm guessing it is probably more than many had on our street, despite all outward appearances seeming to indicate otherwise.  It just seems weird and sad.
The point of all of this is that it's good to know how much you have saved.  Hopefully, one of the things you get from this blog is how to take stock of where you are and what your plan is to achieve your financial goal.
It's also good to put your savings into perspective.  Saving money is HARD work, especially emotionally given that we live in a world of conspicuous consumption where we are inundated, in the words of Tyler Durden: "Advertising has us chasing cars and clothes, working jobs we hate so we can buy shit we don't need."
It may not always be apparent, but I think it's always worthwhile.  Amazingly, and very sadly too, just doing a little bit of savings over a long time will put you well ahead of the average American.  Take a look at those median values again—it's sobering.
Maybe all of us savers need a special handshake or something so we can know that we aren't alone.  I hope this post makes you as a saver feel that you aren't alone and that it is worth while.