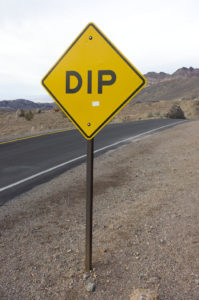 Holy crap!!!  The last week of the market has been insane.  We've seen the largest point drops in the history of the Dow—1175 drop on Monday and 1033 drop on Thursday, although neither ranked within the worst 50 drops in percentage terms.  This is crazy, yet why would I possibly think that this is a good thing?  Over the past 6 trading days, the market is down about 7%.  Yowza!!!
I am, and most of you are, long term investors.  The money I am investing in the stock market is meant to be spent years, or more likely decades, from now.  Sure, what happened right now sucks and maybe is scary (although I think it's actually the opposite).  That should be comforting because, although we've taken a huge body blow, the good news is that we have a really long time to recover.
Dollar cost averaging
OK, that might explain why it's not so bad, but how could it possibly be good?  If you can take a Pepto and keep your head, this is actually a great time to be investing, be it regular contributions to your 401k and IRA or just regular stock purchases.  If you were excited to buy stocks two weeks ago when the market was frothing, you should be even more so now that stocks are "on sale" at 7% off.
Sure, that might make sense philosophically, but how does that work in real life.  Let's look at my nephews Risky Fox and Safey Fox.  Risky Fox invests $10 every day no matter what happens.  His twin Safey Fox cut a deal with the investing gods where every day the stock market goes up an equal amount.  Both twins started investing on January 1, 2000, and each has invested $10 every day for those 18 years.  They both start when the S&P 500 was at 1455 at the start of the millennium and they both end last Friday when the market was at 2,620.
Those 18 years have had crazy bull markets and crazy crashes—the dot-com bubble and it's popping in 2001, the Great Recession of 2008, and the Trump run of 2017.  Those are the big ones but there have been mini-crashes and corrections too like August 2011 and January 2016.
Through all of that Risky invested $10 through thick and thin, no matter where the market was, high or low.  In her bizzaro alternative universe, Safey invested $10 every day , knowing each day the market went up a small but consistent amount (0.0129% each day if you're curious).
Who ends up ahead?  It would be a pretty stupid column if it was Safey . . . of course it was Risky Fox.  Each invested $45,560 over those 18 years.  Safey ends up with $62,011 which isn't bad.  But Risky ends up with $89,773, about 45% more.
How does such a thing happen?  In 2001 the dot-com bubble popped and stocks fell 45% over three years.  Throughout all that Risky kept plugging away, investing his $10 each day, but now he was getting stocks at a huge discount.  Stocks recovered after a few years and that looked like a great buying opportunity in hindsight.  Then in 2008 the Great Recession his and stocks fell about 55% in a little over one year.  Again, Stocky keeps investing and when stocks bounce back, he looks like a genius for having kept faith and picking up stocks at a substantial discount the whole time.
And just to prove it isn't a unique thing, if you did the same Risky/Safey experiment for the 1970s, 1980s, and 1990s, you get similar results.  The 1960s and 1950s have Safey coming out ahead, but by a much smaller amount.
| | | | |
| --- | --- | --- | --- |
| | Risky | Safey | Difference |
| 2000 to 2018 | $89,733 | $62,011 | 45% |
| 1990s | $69,324 | $56,044 | 24% |
| 1980s | $51,181 | $48,492 | 6% |
| 1970s | $28,650 | $27,538 | 4% |
| 1960s | $29,951 | $31,100 | -4% |
| 1950s | $48,480 | $50,926 | -5% |
And never lose sight of the fact that what Safey is doing is impossible.  The market doesn't work like this.  This just shows that what Risky is doing, something we all "have" to do, really isn't all that bad.
It's similar to asking if you can get from point A to point B faster by walking with your feet or flying with your wings.  You can get there with your feet most of the time more quickly, but even if that wasn't so, none of us have wings.  The whole point is that buying through market down turns (or walking with your feet) does pretty well, even when compared to some fantasy construct.
Faith
Ultimately, this is a lesson of faith.  When we were in the depths of the Great Recession, Warren Buffet famously professed his faith in the US economy.  He turned out to be right and made tens billions (billions with a "B") along the way.
There's no proof that markets will always go up (predicting the future of human behavior is always impossible), and at the end of the day it's a matter of faith.  If you believe in capitalism then you believe that stocks will always go up.  I do believe in capitalism so I do believe that stocks will always go up.
That's what makes the little experiment with Risky and Safey work.  Even when things look horrible, like it did in the dot-com bust and the Great Recession, if you have faith in capitalism you'll look at the downturn as a temporary turn that will ultimately return to rising prices.  You can see this by looking at a long term stock chart of US stocks: they have an unrelenting upward march through all sorts of markets over 100 years.  Or you can look at the data that shows that historically consistently investing in stocks has never lost money over a 20-year horizon.
That brings us full circle.  We've been bashed in the face the past 6 trading days.  Stuff like this happens.  I have total faith in capitalism which means I have total faith that things will recover.
When people have asked me what I think will happen/what I think they should do, I tell them to keep on keeping on.  Keep investing in your 401k, keep putting away money in the 529 and your IRA.  It's probably a lousy time to withdraw a ton of money for a beach house or some other massive expenditure, but beyond that, what's going on in the stock market really shouldn't be impacting you at all.