Last year about this time, the nation was gripped in Bitcoin-mania.  It was dizzying.
As with most bubbles, it transcended financial markets and wormed its way into the mainstream. Everyone was talking about it, from late-night talk show hosts to grandmothers and everyone in between.
I wrote my thoughts on the matter here.  Just after that post, Bitcoin rose another 10% and then cratered precipitously.  I predicted its decline would result from it being connected to a terrorist attack and world governments using that as a pretext to extinguish it.  As it happened, it just seems that the bloom fell off Bitcoin's rose.  Sometimes financial markets are fickle.
In 2017 Bitcoin rose from about $1000 to a peak of almost $20,000.  As fast as the rise was, the fall has been nearly as fast; from $20,000 to about $4000 today.  But this post isn't a victory lap—Bitcoin bears were clearly proven right, so what's the point of adding on there?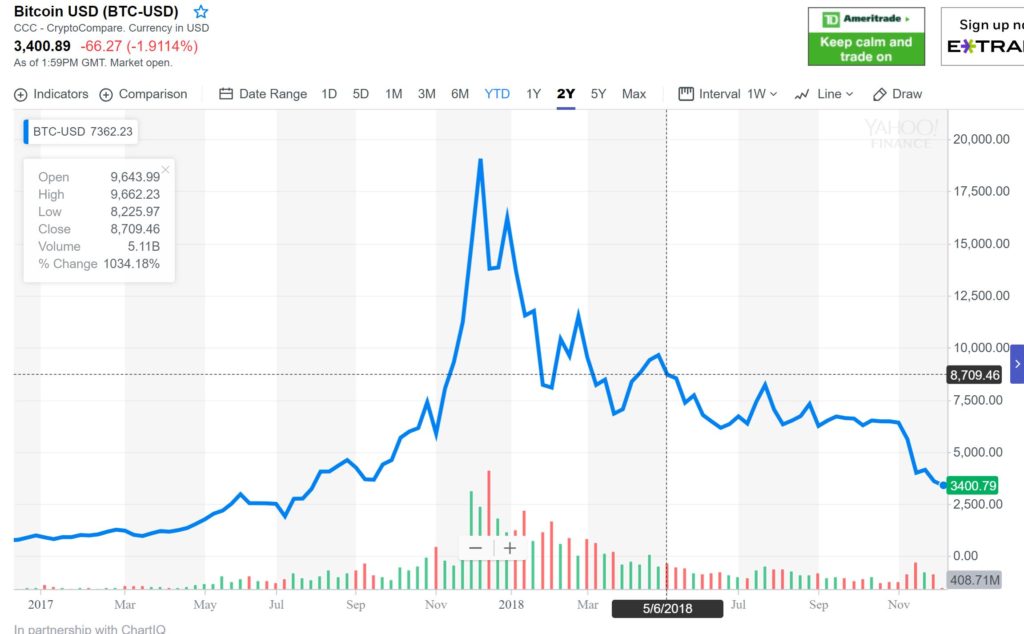 The point of this post is to give a little bit of love to Bitcoin.  I wouldn't say I'm making a bullish bet on Bitcoin (I certainly haven't bought any, and have no plans to).  However, here is an argument why it may not be doomed.
You can actually buy stuff
The biggest problem for Bitcoin was that it had no intrinsic value.  That's not a deal-breaker: fiat currencies (dollars, euros, yuan, etc.) are only valuable because their home countries say they are and pass laws that you can use those pieces of paper to pay for stuff (more on this in a second). 
Without that government backing, Bitcoin becomes a bit like gold or diamonds, inherently worthless pieces of stuff but are valuable because enough people in the world think they are valuable.  Of course, a big difference is that you can hold gold or a diamond, but not so much with Bitcoin.
In December 2017 enough people thought Bitcoin had value that it pushed the price to $19,000. Today, many fewer think it is valuable so it's worth much less, hence the $3400 price.
Through it all, Bitcoin was missing a major component of a currency (like a dollar) or even a store-of-value commodity (like gold)—you couldn't buy anything with it.  I don't think you would have had near the crash (and probably not the run-up either).
Until recently, you could only buy stuff with Bitcoin on the fringes of the economy.  Certainly, the black market accepted it, but that's not exactly what we're going for.  A very small handful of regular stores(virtual or brick-and-mortar) did, but that was minuscule.
That may be about to change in a profound way.  The state of Ohio recently announced that you can pay your taxes using Bitcoin. It's hard to understate the importance of this.  Paying taxes, by definition, is about as legitimate a transaction as there is. All the sudden Bitcoin is a legitimate currency, at least to the state of Ohio.  To compound the point, I don't believe you can pay your taxes in Ohio in euros or yuan (undeniably currencies)or gold or diamonds (undeniably stores of value).
How will this impact Bitcoin's price
Now that Ohio will accept it, that will create a real market for Bitcoin.  That begs the question,what will that do to the price?  You should expect my normal answer: I have no idea. But I do have some thoughts.
Bitcoin's price has been in freefall for months now.  This was caused in large part by the tiny, tiny issue of Bitcoin not being used anywhere. Now that has changed.  I still think Bitcoin could go down, but I definitely think it will not go down as much as it would have if Ohio hadn't made it's decision.  It's impossible to know if I'm right or wrong on that, since we can't test things in alternate dimensions.
It's not to say Ohio is getting in the Bitcoin game.  It just takes the Bitcoin payments, sends them to a market to get exchanged into dollars, and they have their money.
Ohio has taken the first step and it'll be interesting to see if any other states follow suit.  If a large state like New York, Texas, or California also starts accepting Bitcoin, I think that will definitely buoy it's value as it becomes even more of an accepted currency.  And of course the coup d'etat would be the Federal government accepting it.
Overall, I still think Bitcoin will be volatile, probably to the downside.  However, I do think maybe we'll back in five years when Bitcoin has settled to something of value,probably less than $4000, and look at this Ohio decision as the first step towards that stabilization.