The new year is a great time to take account of things in life. We look at the year just ended, reflect on our successes and failures, decide how this year will be better, make our resolutions, and take on the new year.
I was all prepared to write a few posts on all that, but then the tidal wave that was December 2018 hit. I posted last week right at its depths, but even the craziness of the last few days of the year require, neh demand, its own post. So let's put a bow on that crazy month.
As bad as it was . . .
I posted last Monday, Christmas Eve, that with a bit over a week to go, December 2018 had already become the 4th worst month in the 69-year history of the S&P 500. Going into that trading day, we were down 12% for the month, and then in an act worthy of Old Testament God, the market plunged that day another 3%. Just in time for the holiday. Thanks a lot.
It was bad and we were in the teeth of an all-time bad stock market plunge. If you think of it as the 4th worst (or 3rd worst after that Monday) month in almost 70 years, you'd expect something like this once every 25 years or so. That's a generational storm. Batten down the hatches.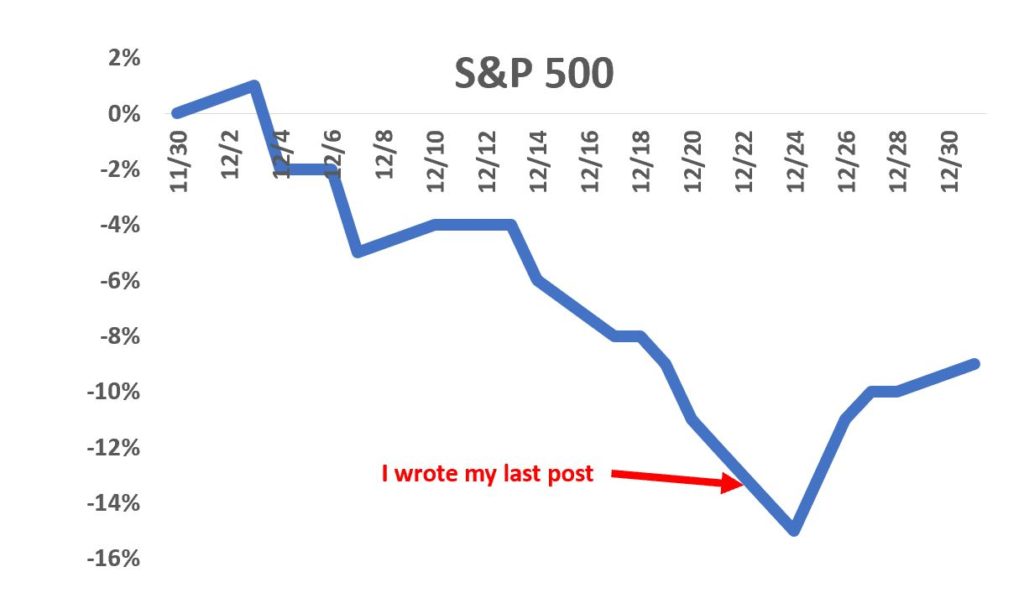 . . . and how it ended
But there's a reason that December ends after the 31st day and not the 24th day. The day after Christmas (obviously markets were closed for Christmas), the markets increased 5% which is a crazy high amount.
Before we look at the larger picture, let's just reflect on December 26 for a second. It was the largest point gain day for both the S&P 500 and the Dow Jones Industrial Average. Also, it was the 18th largest percentage increase for the S&P—top 18 out of over 17,000 trading days since 1950. Not bad.
Back to the story, so Wednesday there was a big recovery but we were still down a lot. But the market kept chugging along each day, and it ended the month up 7% for the lows on Christmas Eve. Let's not fool ourselves. It was still down 9% for the month, but compared to where we were as Santa was loading up the sleigh, that's not that bad.
In fact, while there's no doubt that December 2018 was a bad month, it didn't even rank in the Top 10 worst months of all time (it was at 11). Not that that should make you feel good, but we were thinking we were being hit with a generational storm, and it ended up being an every 5 or 6-year storm. Those things happen.
The stock market is a very complex human experiment, but in a lot of ways it's very simple. I think the crazy roller coaster ride in the month of December (and more broadly all of 2018) really illustrates this. Things are never as bad as they seem, and the best strategy is usually to just sit tight and let the craziness work its way out of the system.
I hope everyone has a wonderful Christmas and New Year. Next up you'll see how the Fox family did on their investments including the wins and losses, so makes sure you have a box of tissues.