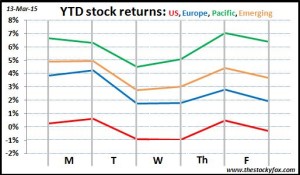 What a crazy week on Wall Street.  Tuesday we were down over 1%, Thursday we were up 1%, and then Friday ended the week down another 1%.  Net for the week markets ranged from being about flat with Pacific was down only 0.3%, to really taking it on the chin with Europe being down nearly 2%.  So what was the cause of all of this?
Euro depreciates sharply against dollar:
The major news event that dominated the entire week was the major decline of the Euro to other currencies and specifically the dollar.  Pundits spent the whole week debating if this was good or bad for Europe and good or bad for the US.  Based on the stock returns for the week, it seems like it's better for the US—the US markets were down about 0.6% for the week while the European markets were hammered about 1.9%.
The reason behind all this is if your currency depreciates it makes imports more expensive and your exports less expensive to other countries.  So this is supposed to have a bit of a stimulus on your domestic economy because of a twin effect—exports from other countries are more expensive so your people buy domestic instead; also, your exports are more affordable abroad so foreigners buy more of that.  So on the surface this should be good for Europe and bad for the other economies.
But the deeper issue seems to be that Europe's economy is not that strong right now, plus you have the nightmare situation in Greece which could potentially spread to Spain and Italy.  Because of all that, the currency is in free fall, so when you evaluate things it's true that the Euro depreciation should be good for the Eurozone economies from an import/export perspective, but that is more than offset for the negatives that are driving the value of the Euro downward.  Any way you look at it, it sure made for a wild week and people swung back and forth from this being a good or bad thing.  Undeniably, it makes the prospect of the Fox family taking a European vacation much more tempting since our dollars will stretch so much further.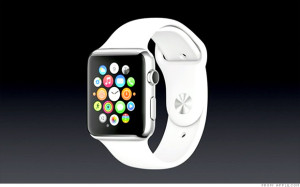 Apple unveiled its latest gadget, the Apple watch, on Monday including a $10,000 version if you really like the gold look.  In general Apple is beloved by Wall Street and the general media so this story got tons of coverage.
The consensus seems to be the product won't be a blockbuster that will change the world, and the holy grail of a super-functional device that fits on your wrist but contains all the features of a smartphone is still in the future.
If it's such a disappointment, then why am I writing about it?  Although it remains to be seen if the Apple watch will hit the mark, it does represent some incredible innovation.  Just like iPods changed our lives, and then iPhones and iPads, eventually this product or something like it will get traction and become a staple for us, creating tremendous value for its users and tremendous profits for the company that does it.  And that is really the cornerstone of the American economy—innovation—and that is why I am always to optimistic about investing in stocks, even on really down weeks like this one.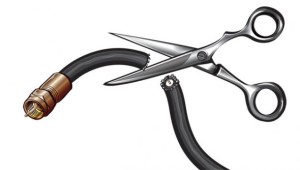 Video streaming displacing traditional television:
As if we needed to be told, numbers came out that showed that traditional cable television ratings were suffering in a major way due to streaming services like Netflix, Amazon Prime, and Hulu.  Similar to the idea of the Apple watch, in this case people aren't watching less video programming (see you can't even say "watching television" anymore because there are so many different devices they could be watching on).
Just some incredibly innovative companies are finding a way to make things more convenient, less expensive, and generally better for consumers.  This has led to amazing stock performance for those companies at the expense of some of the traditional media outlets.  As an investor, this changing of the guard will clearly have its winners and losers, but net-net you'll come out ahead because a better product is being created which attracts for customers and leads to more profits.  Again, the innovation engine is clearly chugging in the US and around the world, and that will lead to higher stock prices for those companies who can best bring those advances to markets.
So there you have it.  Some sour political/economic news out of Europe put a damper on the week, but I still firmly believe that the value creation is still occurring at an amazing pace.  We won't have a movie review tomorrow because next week I will have a post every day where I'll be having a March Madness style tournament to see which investment strategy is the best.  Hope you have a great weekend.