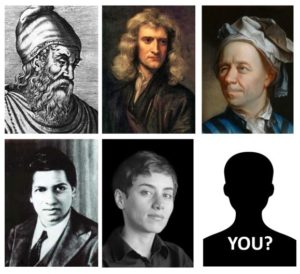 What–This is a math tournament that will be held over the course of the 2017-2018 school year.  Once a month we will hold a test; each test will have 6 very challenging questions and students will be given 30 minutes to complete it.
Who–You must be a 4th or 5th grader (or age equivalent if home schooled).
When and where–The next test will be April 18, 2018, at 3:15pm in the Media Center at Summerfield Elementary School.  Each test will be the third Wednesday of the month.  It is up to parents to provide transportation to and from SES for participants.  This program is not affiliated with or endorsed by Summerfield Elementary School or Guilford County Schools.
Prizes–Each student will receive a scientific calculator for attending (limited to one per student for the whole year).  Plus, the community is raising prize money with the target of:
First place–$500
Second place–$350
Third place–$150
As additional funds are raised, additional prizes will be offered like: prizes for winner of individual tests, pizza and other food served at tests, prizes for winners of individuals schools, etc.
Donate–Participation in this is 100% free.  However, this program is completely community funded.  No tax dollars or school money is spent on this.  If you would like to support what we are doing to celebrate the 4th and 5th graders who are awesome at math, please donate here.
Scoring–Students will get one point for each correct answer (correct answers will be determined by the tournament's organizers and their word is final–please don't argue with us).  Scores will be cumulative, and the final score for the year will be the sum of the student's best FIVE tests (tie-breakers may be used in the event of a tie).
Rules–One simple rule: don't cheat.  If it is determined a student has cheated that student will be disqualified from winning any prizes or their scores being recognized.  Calculators can be used so long as they are simple, non-graphing calculators (the tournament organizers will make a determination for all calculators).
Register–Registering is required so we can know how many students are coming and make sure we have enough desks set up.  Please register here.