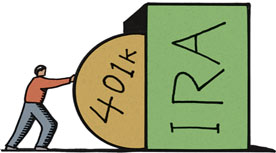 Kind of, but not really.  I wanted to put a dramatic headline up to see if that would drive more traffic.  However, I did lose a little bit of money by rolling over my 401k from Medtronic into my IRA with Vanguard.  Here's my story:
As you know, I left my job at Medtronic a while back.  Whenever you leave a job, there's actually a lot of work involved with your finances.  You have to move them from the accounts set up by your company, to your own individual accounts.  Best case is it's a pain in the butt; worst case is you can forget about some of it and lose it forever.  So it's an important process.
So when I left Medtronic I knew I had to take my 401k account and roll it over into an IRA.  But there wasn't a lot of urgency because Medtronic had their 401k at Vanguard, and all our other accounts are at Vanguard, so it seemed fine.  But then the Medtronic/Covidien merger happened, and as part of that, Medtronic switched from Vanguard to Aon Hewitt.  I wanted to keep all my money in one place for convenience sake, so I called Aon and initiated the rollover.
For those who have never done it, it's a pretty simple process.  You set up an IRA account where you want the money to go (Vanguard in my case).  They'll ask you how you want to fund the IRA and you click on a choice that says something like "Rollover".  Then you call up the place where you're money is at (Aon in this case) and start the process.  Usually they'll send you a check which YOU DO NOT CASH, but instead just send it on to Vanguard.  Overall the process takes about two weeks.
But that two weeks is what screwed me a little bit.  During those two weeks your money is not in the market.  As you know from many posts I have done, the stock market is really unpredictable in the short-term, so it's impossible to time the rollover process to your advantage.  Ideally, that two week process would coincide with a brief downturn in the market.  Conversely, you hope that two week period isn't when the market stages a blazing recovery.
Based on the title of this post, you can probably guess what the case was for me.  As we know, the first few weeks of the year were really bad for stocks, and then they started a slow recovery.  If I could predict the future, that would have been the time to do my rollover, at the beginning of the year right before stocks fell 10% over the course of a couple weeks.  Of course, if I could predict the future, I would own my own island in the Caribbean.
I took the plunge in mid-February, and as you can see, stocks started inching up.  It was a perverse feeling: of course I like when stocks go up because we have so much invested in stocks.  But on the other hand, I felt that part of my portfolio was missing out on those gains.  Following the stock market too closely can really mess with your head.  Anyway, after a week, I got my check from Aon, which I promptly sent to Vanguard.  In that week, stocks were up about 0.8%.  My 401k from Aon was worth about $140,000, so missing out on that 0.8% gain cost me about $1100.
Once I put the check in the mail to Vanguard, the investing gods decided I needed to be further humbled, so in the next week stocks went on a major tear, rising about 3.2%.  Of all the times, why then?  My being out of the market for that week cost me another $4400.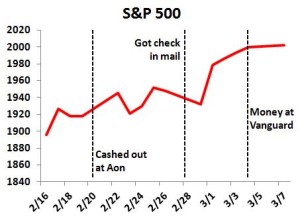 Add that up and you're talking a decent chunk of change.  My timing for doing the rollover couldn't have been worse, and in the end I missed out on about $5500 in market gains.  That sucks.
But you win some and you lose some.  I am sure that I have come out ahead some of the other times I've transferred accounts, but as Matt Damon's character said in Rounders: you tend to remember your spectacular loses more than your amazing wins.  Just human nature I guess.
That said, there's definitely a lesson there, which is you need to stay in the market.  As we have discussed ad naseum, the market is very unpredictable in the short term often times with wild swings.  But over the long term it has a relentless upward march.  I had to get out of the market for a pretty unavoidable reason, so maybe I get a pass.  But what about those people who got spooked by the January plunge and then missed out on the February recovery?  They got crushed and could have really hurt their financial plan.
So there you go.  I hope you were entertained by my misfortune.