2018 was an "interesting" year for stocks. Everyone wants to think "this one was different" but 2018 did seem to be pretty crazy.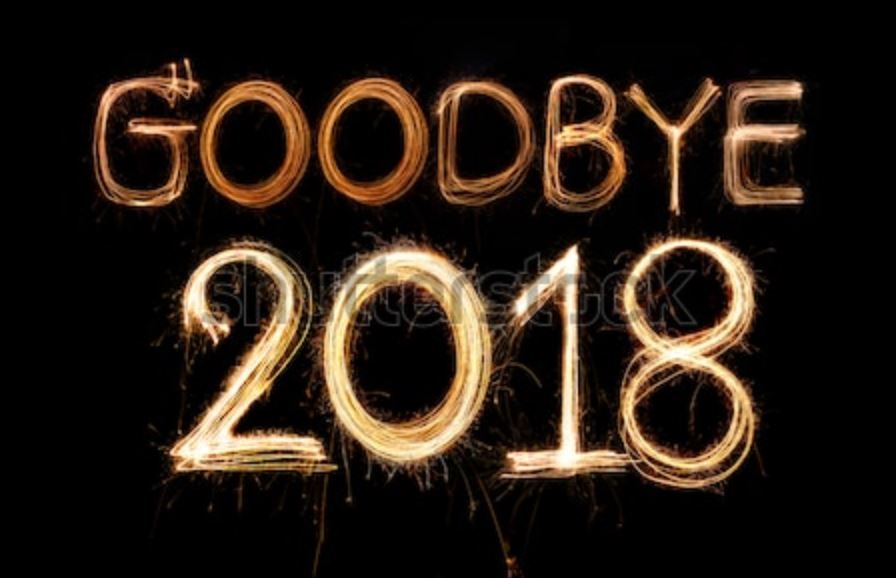 We had some wild swings pretty much the whole year: from January to December. Going into December, I was marveling at what a genius I was with my prediction from the beginning of 2018 that the market would be up about 5% for the year. Going into December it looked like I was going to be spot on . . . and then the bottom fell out of the market and you have where we are now.
Our stock performance
Just like most everyone else, we had a down year. Of course, since we only invest in index mutual funds, by definition whatever the market did is the return we got.
| | | | |
| --- | --- | --- | --- |
| Investment | Ticker | % of total portfolio | 2018 return |
| US stocks | VTSAX | 50% | -8% |
| Int stocks | VTIAX | 45% | -18% |
| REITs | VGSLX | 5% | -12% |
| TOTAL | | | -12% |
We were down 12%, and obviously that sucks, but . . . There's really no "but" so let's not try to sugarcoat it, but maybe there is a silver lining. Since the Great Recession in 2008, stock were up about 150% (about 11% annually) and had a 10 year winning streak.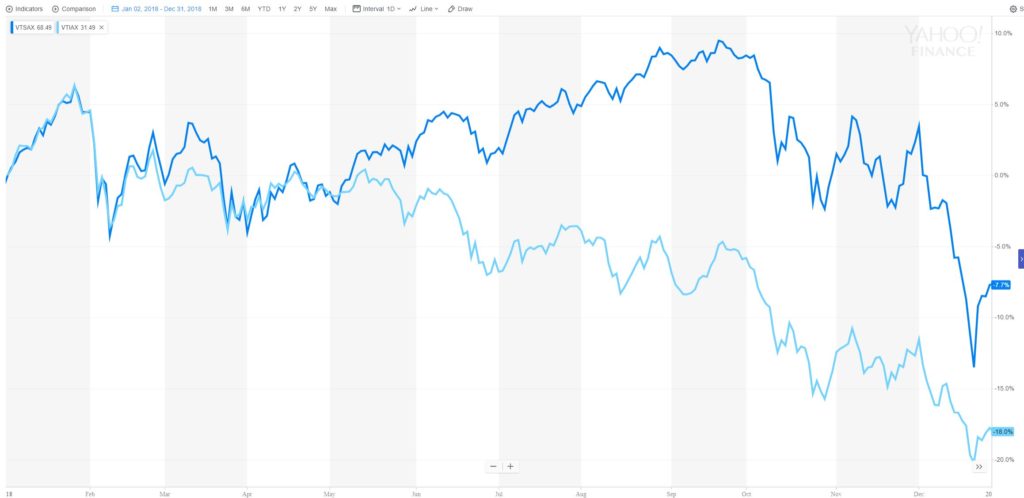 This year we had a down year, so it's a bit hard to complain. Historically, stocks are down for the year about 30% of the time. We were probably due, so we shouldn't get too greedy. Still, it isn't fun to go through a down market, but that's life.
Notice any changes?
We also made a few simplifying changes to our portfolio starting in late 2017 and continuing into 2018. At the end of 2017 we sold all our commodities as I discussed here. In 2018, we also exited our Lending Club investment which was also a disappointment (although not nearly as bad as the commodities).
That took us from five investments (US stock index fund, Int stock index fund, REIT fund, commodities ETF, and Lending Club) down to three. If you remember the post on Three Investing Ingredients, I was getting closer to following my own advice. The only thing still there was REITs. In late 2018 we finally sold those off, so as of now, we are totally following the Three Investing Ingredients. It's nice to get back to basics.
At the beginning of 2020 when you read about how we did in 2019, there should only be two investments.
Inflation
The other thing I always look at at the end of the year is inflation. US inflation came in at 2.4%. It's been inching up steadily over the past few years, and now it's the highest it's been since before the Great Recession. Even so, 2.4% is still incredibly low.
We spend a ton of time talking about the impact inflation will have on your portfolio. A few years back I even wrote almost a love note to the investing gods for 2015 being a no-inflation year. The fact that inflation remains very tame compared to historical standards—I use 3% as a target for inflation—means we're ahead of the game.
Wrapping it all up
Let's chalk up 2019 to a crazy year and a "bad" year. But we know sometimes we have bad years. In the grand scheme of things it definitely could have been worse.
MY 2019 PREDICTION—I think our new normal for the next several years will be a lot of volatility, like we saw in 2018 and so far in 2019. I never like trying to predict the stock market, but it just "feels" like we're in for another down year. I predict down 7%. Of course I'll use this as an opportunity to keep socking money away and buy stocks at prices that in 10 years will look bargains.