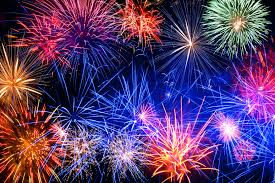 I wanted to write a recap of the stock market in the first half of 2018.  It's taken me a little while to get to it because I actually have a job that I'm working on.  Sorry about the delay, but here it is.
At first blush, you might think that the stock market has gone crazy.  I don't know if you can objectively measure things, but it seems the media which has always been in a frenzy the past decade or so, has gone into overdrive lately.
Obviously there are the big rocks like: school shootings and gun control, the #metoo movement, the eternal Russia meddling probe, the North Korea talks, the retirement and impeding replacement of Justice Kennedy, and the separation of families of illegal immigrants.  There are probably more but those are top of mind.
Most of those are social issues, but they have major economic components.  The gun control debate will have a profound impact on gun manufacturers, many of whom are publicly traded.  #metoo has forced the resignation of several business leaders.  North Korea and Russia talks impact trade and possible war with mass destruction, which of course has a hugely negative impact on the economy.
And this misses the most exciting/depressing/entertaining news item (depending on your persuasion): President Trump.  He alone creates enough material to fill the 24-hour news cycle.
US Stock Market . . . happy yawn
So with all this, what has happened with the stock market.  Despite a few gyrations, it's been fairly stable over a long-term point of view.  It had a  great January (continuing the really strong momentum from 2017), and then things peaked.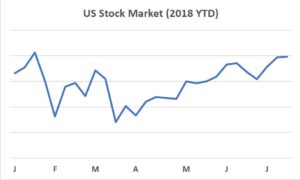 There are a few important takeaways.  First, there were a couple huge drops at the end of January and the end of March, but we recovered from those fairly steadily.  Second, we are now at where we were when the stock market peaked in January.  Third, remember that all this 2018 performance is coming on the heels of a spectacular 2017.
All things considered, that seems pretty good.  The market is up 4% so far for the year.  Maybe that seems a bit dissatisfying because it's been flat since the peak in late January, but up is still up.  Let's not look a gift horse in the mouth on this one.
International Stock Market . . . interesting
What I think is most interesting is that since May the US stock market has marched higher while international stocks markets have gone the other way.  Look at the chart for 2018 so far.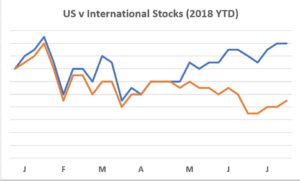 Most of the time, US (blue) and International (orange) stocks tend to move in sync.  Sure, there are always small differences, but by and large when one goes up the other does too and vice versa.  That was the story for sure for the first part of 2018.  Then something happened in May; since then US stocks have marched upwards about 6% while International stocks have fallen about 3%.  That's a 9% difference!!!
I've racked my brain, and I don't have a clear reason.  Sure, the North Korea situation continues to be goofy.  Italy elected an anti-immigration government that turned a boatload of refugees away.  Brexit unfolds like a car wreck in slow motion.  Syria, Russia, Venezuela—all the usual suspects.  But what has changed in the past couple months that has been so good for the US and so bad for the rest of the world?
The only thing I can really think of is the trade war Trump has initiated.  Typically in these there are winners and losers, so maybe the market is predicting that the US will "win" this and the rest of the world (especially the developing markets since those stocks are down the most) will "lose".  There are a ton of complications and nuances and a million different things could happen, but that's the best I could come up with.  I guess we all need to stay tuned.
Either way, what is going on right now with such a disparity in the performance of major stock indices is not common.
If you put that all into the pot and mix it, things have gone pretty well for the investor.  That seems a bit different from the constant news stories about how the world is on the brink of disaster, but that goes to show you that long-term investing washes away a lot of those shorter-term swings.
As always we are and have been fully invested in this stock market.