It's been a great week if you're an investor.  US market performed the worst, being up only 2.7%.  Wow!!!  If that's the worst performance, it must have been a really good week.  Europe rebounded from a tough last week and was up almost 5%.  Pacific and Emerging were in between, being up 3.6% and 4.2% respectively.  So what caused it all?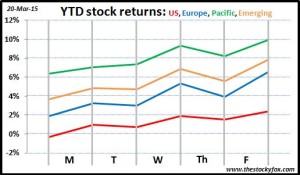 Removing 'patience' doesn't mean we'll be impatient:
The biggest market move of the week was when US Fed Chairwoman Janet Yellen released a statement saying that the Fed would remove the word "patient" from their statement on when they would raise interest rates.  In practical terms that opens the door for them to raise interest rates in the next month or two, so on the surface that should be negative for the markets.
But she was quick to stress that removing the word didn't mean that they intended to raise rates immediately.  That was where the uncertainly lay—everyone knows that interest rates will go up, but it's just a question of when.  This was a huge relief for the market as you could see when they rose about 2% within seconds of Yellen making her announcement.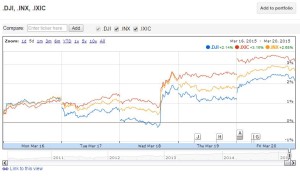 Euro recovers against the dollar:
Last week the Euro was battered against the dollar.  Such a violent move is never good for markets and it sent all of them down.  Remember, markets really like stability and predictability, so that makes sense.  This week the Euro recovered some of its losses, although it's still down significantly from where it was at the beginning of the year.
Who knows how long this is going to last?  As always, the Greek epic looms over everything; yesterday the German Prime Minister had to intervene to make sure Greece is playing well in the sandbox with the others.  Plus you have other major European economies that still have sluggish growth.  I personally think that Europe has major systemic problems that need to get solved, the biggest being Greece and its implications for Euro membership, but at least it isn't in total freefall right now.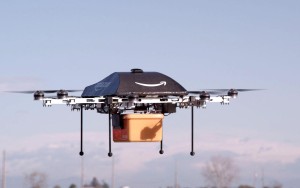 Amazon gets FAA approval for drones:
On Friday the FAA said it would allow Amazon to start testing drones in a limited fashion (only during day time, at limited altitudes, etc.).  Amazon stock was up about 1.4% in a day when the markets were up 0.9%, so it's not like it had a major impact.  But I think innovations like this are what are really going to drive our economy forward in the future and create immense profits for the companies that can figure it out.
Predicting the future is always hard, but you can easily imagine that there will be a day when a drone will fly any product you need to your door—groceries, carry-out Thai food, AAA batteries, library books, whatever.  It will be events like this one which will pave the way to a pretty amazing future for us and the companies that figure out how to bring it to market.
Enjoy this week.  You don't get a lot of these 3%+ weeks, so maybe take your significant other out to dinner or something.  Have a great weekend, and my next post will be on Monday when I continue my March Madness investing tournament with Starting early takes on Tax optimization.