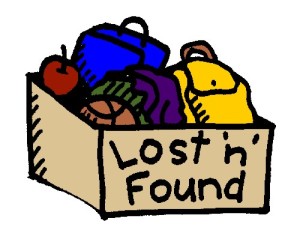 On this blog we talk about a lot of ways to scrape out a little bit higher return for your investments, or shave off some of the expenses.  That one or two percent may not seem like a lot, but over time 1% can really add up.
However, what if I told you there was a mistake a lot of people make that doesn't cost them one or two percent of their investment, but costs the entire amount of their investment?  What if I told you Stocky Fox himself came really close to making this mistake?
Forgetting your money.  It seems absurd that you would ever "forget" about the money you have worked so hard to save, yet this happens to people all the time, maybe it's happened to you and you didn't even realize it (that's what "forget" means), and it almost happened to Stocky.
My close call
As you know I left my job at Medtronic a while back.  Like so many, much of my nestegg was tied up there—my 401k, Medtronic stock options I had received, Medtronic stock I had purchased at a discount, money I had set aside for a flex spending account.  When you switch jobs you're especially vulnerable to "forgetting" about your money because you have to move it (sooner or later) to a place that isn't dependent upon your former employer.  Probably similar to when your packing up all your stuff after a hotel stay, you'll probably get most of it and certainly the most important stuff, but you might forget something that isn't top of mind.
To make matters worse for me, Medtronic just merged with Covidien so the companies that held all the accounts changed.  Our 401k was with Vanguard but got switched to Aon Hewitt; our stock purchase account went from Wells Fargo to Fidelity; our stock options went from Schwab to Prudential (I think it was Prudential).
So, if you use that hotel analogy, I thought I got all my stuff, but if I did forget anything it would be nearly impossible to find it because they kind of changed the location of the hotel after I checked out.  But I wasn't really worried because I tend to be on top of this stuff.  I am Stocky Fox after all.
Fast forward and the Fox family moves to North Carolina.  Because we bought our NC house before our California house had sold we had to scrape together a lot of money for the down payment.  That worked out well because when I quit my job all my stock options expired, so I had to cash those out anyway.  We just used that money to go to the down payment.  Simple story right?  All well and good.
As it turns out, I did exercise all those stock options, but didn't get the check for all of them.  For reasons that aren't worth diving in to, the money for my most recent options couldn't be sent to me for a while longer.  I didn't realize that, and I thought I had gotten all the money.  Wrong.  There was still about $8000 of the Fox family's hard earned money sitting at Schwab that I had stupidly forgotten.  But then, because of the merger, that money I didn't know about got moved to Fidelity.  So I had money I didn't know about in a place I didn't know existed.
Luckily, Foxy Lady's 401k is with Fidelity so I log in there every once in a while to check on that.  One time when I was at the Fidelity website, just on a wild lark, I put in my old username and password (my 401k from another employer was with Fidelity).  To my shock, there was $8000 in my account.  It took a little bit of digging and calling them to figure it all out, but that was the money I had thought I had taken (just like the shirt hanging in the closet of the hotel you thought you packed).
Since then I have double and triple-checked all the old accounts and called the new places that have the accounts and I'm pretty sure that I haven't left any money behind.  But I was pretty sure I had done that before, so I don't know how "comfortable" I should be.
How this might affect you?
Maybe the details are different, but this same story happens ALL THE TIME.  I help out a lot of people with their finances, and it's not uncommon for people to say after they've shown me all their accounts: "That's pretty much it.  But you know what?  I think I had something with someone from that job three jobs ago."
Maybe it's not a lot of money (if it was a lot of money, you'd probably remember it), but it still adds up.  That $8000 for me will probably grow to $50,000 by the time I'm 65.
Obviously it's not easy to remember things you have forgotten; that's what the word "forget" means.  But if you know this can happen, you can put your guard up and maybe be a little more diligent.  A few of the common ways this can happen, based on my own experience and that of people I work with, are:
401k from previous jobs—this is probably the single most common example. A good practice is to know where all your money is.  When you switch jobs, this is a time when you really can take it all with you.
Other investment accounts with your job—like my situation, you might have money in other places with your employer.
Life insurance—Foxy Lady has a policy that her dad, Papa Ocelot, set up for her when she was a little vixen. It has a cash value and every year we get a statement on it, and every year we don't do anything with it and the cash value steadily decreases.
Money when you move—If you move you have about a thousand balls in the air. Often times you might have a deposit with a utility or you have prepaid for a year with your insurance or something else.  That money is yours but you might have to put a little effort in to get it.  Otherwise, it will just sit like an orphan is some abandoned account.
The point here is obvious.  We all work hard to earn money, and even harder to save it.  And of course, no one intends to do this.  But so many things can hit you at once and even someone who is really on top of their finances (as I believe I am) can let something fall through the cracks.  But this is the easiest money you'll ever make.
Do yourself a favor tonight.  Take 15 minutes to go back in your head and try to remember all the places you've saved money—that 401k account, those savings bonds your late uncle gave you as a kid, what ever.  Can you account for it all?