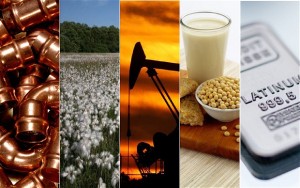 A few years ago, I wrote about our worst investment of all time—commodities.
I think this is a classic case of deviating from the tried and true rules that you only need three investments in an effort to get creative and get higher returns.  In general you should always resist that siren song.  It cost us well over $100,000; that's an expensive lesson.
After a few years of crapping performance, I finally bit the bullet, admitted defeat, took a huge loss, and sold my commodities.
Examining the wreckage
We starting buying commodities ETFs (ticker symbol DJP) in 2010 in small increments, and continued that through the end of 2014.  When all was said and done, we had invested a total of about $100,000.  By the time we sold, those ETFs were worth about $65,000, so we lost $35,000.  Ouch!!!
But that's only a small part of the loss.  I knew, I KNEW, that we should invest that money in stocks but we didn't.  Had we invested that money in a stock index fund that $100,000 would have grown to nearly $200,000 by the end of 2017.  I just threw up in my mouth.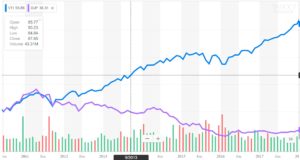 This is a boneheaded mistake for the ages.  Of course, as in most things in life, when you realize you made a mistake like that you need to move on.  With stocks that's tough psychologically to do because not only is it admitting failure, but it's also locking in those losses.  So long as you keep the investment you can always tell yourself there's a chance that things will turn around.
Finally at the end of 2017, to take advantage of a little tax loss harvesting, I sold all our commodities investments.  That horrendous chapter of our investing history was over.
Investing gods decide to humble me further
What unfolded was a story similar to one of those stories from the Bible where God continues to test someone's faith.  I sold all our commodities investments and invested them in US stock investments.
By the end of April 2018 commodities were up about 2% for the year while stocks were down 2%.  ARE YOU KIDDING ME?  After 7 years of stocks drastically outperforming commodities, the trend reversed right after I sold out my commodities.  As you might guess, I was feeling picked on by some power beyond my understanding.
I kept to my guns and my faith was rewarded.  By the end of August 2018, stocks had a big rally (up 8% for the year) while commodities were crushed (down 7% for the year).  When all is said and done, stocks are up about 2% while commodities are down 5%.  That difference equates to about $4000 in my favor.
There are a couple things I took away from this:
First, as an investor, you have to focus on the present and future, and not cling to the past.  Second, sometimes your investments work out and sometimes they don't, and you can't get paralyzed by your investing failures.  Third, exotic investments generally don't work out over time.
All these really combine to illustrate all the things I did wrong with commodities.  I should have just stuck to investing in stocks as I always preach on this blog.  Once it started going bad, I should have cut and run instead of clinging to something in the hope that it would "come around."
Better late than never.  While I definitely left over $100,000 on the table, at least I didn't leave that last $4000.  That's what I tell myself anyway.