I'm trying to build my audience, so if you like this post, please share it on social media using the buttons right above.
Welcome back. Last week I started listing off reasons we're seeing so much more volatility in the stock market. In this blog I'll take you home.
"Skynet becomes self-aware at 2:14 a.m. Eastern time, August 29th." –Terminator 2 (1991)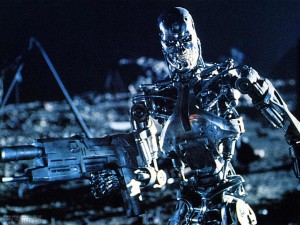 Computer-initiated trading drives a major, and increasingly larger, portion of the volume in stock markets. It's a good thing for a few reasons. It gives people more options in their trading strategies, it offers precision that humans can't match, it doesn't get tired or forget or anything like that. But it also leads to a lot of volatility.
One of the major types of automated trading is "stop-loss" trades. This is when someone owns a stock like Nike and says something like: "I only want to sell it if it starts to fall. Right now the stock is at $50, so sell it if it goes below $45." Emotionally it makes sense. Everyone knows crazy things can happen with stocks and it can all go to hell in the blink of an eye (see: Enron or Worldcom or Blackberry). So as the name implies, this stops your losses at some level you establish. Awesome. You have more control.
The reason this increases volatility is that this type of trade tends to compound the problem. When stocks are going down these stop losses trigger which sells more stock which drives the prices down further which triggers more sell orders and so on and so on in a downward spiral. The obvious flaw is that the computers which are doing this don't have any idea of the intrinsic value of the stock they are selling; they just know they are supposed to sell when the stocks hit a certain level so that's what they do.
When rational humans look at these types of situation (maybe like Boeing on July 12) and can "see" that the market is overreacting, things tend to go back to levels that make sense. Probably the best example of this is the Flash Crash of 2010. On May 6 of that year, probably the craziest 30 minutes ever of stock trading occurred. In a matter of minutes the market fell about 10% (equivalent to about 1700 points on the Dow Jones Industrial Average if this happened today!!!), and then just as quickly recovered nearly all the loss.
What made it so crazy was that no news drove it. Maybe news of a nuclear war starting or a meteor on a collision course for earth would justify such a rapid move. Of course there wasn't that, but there wasn't anything—no news from the Federal Reserve, no companies going bankrupt or countries defaulting on their debt, or a regional skirmish, or a refinery blowing up, nothing.
In the aftermath, the leading theories all ultimately pointed to automated trading. Some sell order lowered prices slightly but just enough to started triggering stop-loss orders. That started a selling frenzy that drove prices down, leading to more stop-loss orders and in an instant everything went to hell. Once thinking people saw this and knew that something weird was going on, they started buying those shares which were selling at 10% or 20% or even 50% less than they were 20 minutes before and made things normal again. Like so many examples here, we ended where we started, but we had a crazy ride in the meantime. More volatility.
"We keep inventing better ways to kill ourselves"
The stock market is an evolving landscape. There was a time long, long ago when it was just stocks. Then derivatives like options and futures came along as well as buying on margin (borrowing money to buy your stock); and now we have stuff like credit-default swaps (I can't say I fully understand those), virtual currencies, and other really exotic things. Like a gun or a power saw or a car, these financial tools can be very useful when used correctly but they can be disastrous when used recklessly.
Generally speaking these investments lead to higher volatility because they tend to be very leveraged. You can make really, really large investments without a lot of money. To buy 1000 share of Medtronic would cost you about $75,000; but to "buy" that same amount using call options would cost maybe something like $2000. Of course, derivatives like stock options are much more volatile, and can lose all their value really quickly.
All the sudden that means you can be a small-time investor who decides to throw a Hail Mary in the stock market. Instead of needing a bunch of money to take a major position, you could do it with much less. Realistically, I as an individual probably couldn't take such a big position to impact the market, but certainly a small bank could. There are dozens of stories where some trader at a bank took a crazy big position, often times using derivatives, that went bad. Not only does it take the bank down, but when that bank falls, just like dominos, others fall with it. Same story: increased volatility.
So we've covered a lot of ground and come up with a lot of things that make today's stock market much more volatile than it's ever been in the past. But let's remember that the stock market is ultimately about fundamentals. How strong are the companies? Are they coming up with new products? Are they finding better, faster, cheaper ways to meet our needs? Those are the things that make the stock market go up over time. And I believe all those things are there in today's stock market.
In fact, of all the reasons I cited for increased volatility, I think all of them are good for the long-term value of the stock market. Information traveling faster is a good thing; a globalized economy is a good thing; computer assisted trading is a good thing; financial derivatives are a good thing. They're all good and they all are making stocks continue to be a good investment. Remember, stocks have been on a relentless climb for over a century. In 2015, despite all the craziness, we were still hitting new all-time highs.
Sure, sometimes people screw things up, and because of this new age, those mistakes make a big impact. But that big impact fades, usually very quickly. So Mimi, as always, I think the stock market has great prospects for the long-term future, and I'm putting my money where my muzzle is on this one. Your daughter-vixen's retirement money as well as your grandcubs' college funds are fully invested.